Meet Juliana and Daniel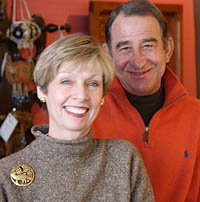 Juliana Daniel Antiques has been in Wichita since 2001, but proprietors Juliana and Daniel Greenberg have been in the business a lot longer than that. As Juliana will tell you, "it all started with a shoebox full of lace" inherited from her mother in 1979. She started making antique lace pillows and slowly built up the business in Pasadena before moving to Wichita at the start of the decade.  Daniel ("Danny" once you've met him) spent 30 years as a retail executive before the move to Wichita.
Today, the merchandise ranges from fun to fine, from vintage cowboy boots to furnishings rich in past and personality — and most everything in between. "Fun," as opposed to "stuffy," is a concept the two take seriously. Juliana Daniel Antiques is less an antique store than a well (and whimsically) furnished antique home, the smell of vanilla coffee mingling with the scent of fresh flowers and polished wood. With 5,000 square feet on two levels, it's filled with reasonably-priced treasures just waiting to be discovered.
The store is open from 10 to 5:30 Monday through Saturday. Stop by for a visit. Whether you browse for a few minutes or a few hours, you're sure to find something you like. And there's a very good chance you'll find something you love.