Consignments at Juliana Daniel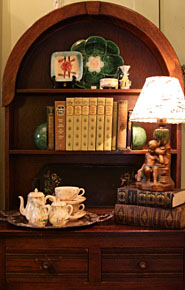 Juliana Daniel welcomes selected items for consignment in our store.
We generally accept items in good condition that we believe will be of interest to our customers. But please understand that consignment is done on a case-by-case basis. We know from experience what is likely to sell in our store, and also face other constraints, such as lack of space, or perhaps too many of a certain kind of item.
Here's a short guide to what we may accept for consignment:
Good quality recent or antique furniture in clean, excellent condition. Recent pieces must be of a current style. Upholstered pieces must be clean and show little wear (no fraying or cat clawing, for example). Wood items must be stable – no deep gouges, water stains, burn marks, or missing or bubbled veneer. Light scratches may be acceptable, however.
Unique or vintage lamps in good, safe working condition. These must be clean with no broken parts or frayed wiring.
Unique, vintage or antique mirrors in good condition.
Artwork is a highly subjective category, so we may be especially selective in consigning your paintings, prints or other art objects.
Here is how we handle consignments that are accepted:
Upon acceptance, your item will be priced and placed on the selling floor for two months. After that period, the item will be systematically marked down as follows:
After the initial two months, 20 percent off
an additional 10 percent off each month thereafter
If your item sells within four months, you will receive 60 percent of the selling price. After three markdowns, 50 percent of the selling price.
If you have items you'd like to consign, please stop in, call us at (316) 691-9966, or send us an email.